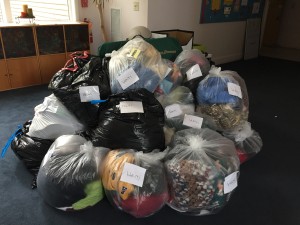 Local residents wishing to donate much needed relief supplies for the people in southern Haiti who have been so devastated by Hurricane Matthew, can drop off donations at our church — North Shore United Methodist, 260 Rte. 25A in Wading River. We are a collection center for a 40-foot shipping container which is being filled with supplies donated by individuals and organizations throughout Long Island.
The container, located in Wyandanch, is sponsored by the Life and Hope Haiti foundation, a 501(c)3 nonprofit, which primarily supports a school in northern Haiti, and will be shipped to Leogane in southern Haiti as soon as it is filled, hopefully in early November.  NSUMC and Life and Hope have been partners for a dozen mission trips since February 2009.   
Donations of money to directly help Haitian people rebuild (100% donated) can be sent to:
Life and Hope
210 Essex Street
West Babylon, NY 11704.
Donations to help cover the cost of the container and shipping should be identified as such and sent to the same address.
The requested relief supplies include:
Clothing and shoes (new or gently used): work boots, hoodies, sweatshirts, windbreakers, and light jackets

Baby items: diapers, baby formula, baby food
Household items: sheets and blankets, towels
Toiletries: toothpaste/toothbrushes, soap, feminine hygiene supplies
Supplies: water filters, filtration systems, and purification tablets; flashlights (solar or hand powered preferred); batteries; first aid and medical supplies; antibiotic ointments and liquids; stomach and diarrhea meds (e.g. Pepto Bismol); vitamins, rehydration packets, etc.
Food: dried rice; beans and pasta preferred (in plastic containers); powdered milk; bottled water and juices
Building materials and tools: 2x4s, 2x6s, metal or fiberglass corrugated roofing, nails, wood screws, saws, hammers, drills, electric generators, tarps, windows, doors, work gloves
Bring donations to North Shore United Methodist Church, 260 Rte. 25A, Monday – Thursday from 9 am – 1 pm, or call 631-929-6075 or 516-768-8068 to arrange a convenient drop-off time.
Thank you for anything you can give!